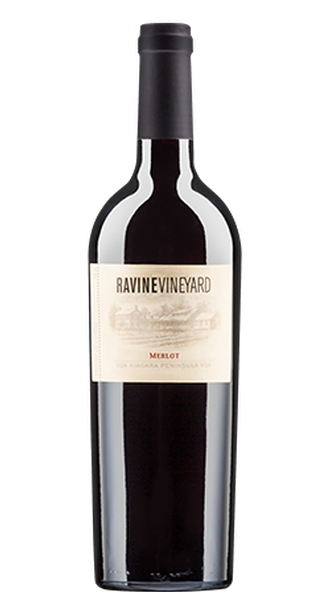 Ravine Merlot 2019
We have two merlot clones on our estate 317 and 181, they each are unique in their own way from how the berries develop, look and taste. We are very fortunate on our St David's site that we have these clones planted are on sandy soil they just love the heat on our eastern block of the property. 317 clone provide from cherry and red fruit, cl. 181 is a little more intense contains more depth, colour tannin, and dark fruit. So it's really fantastic that we have the two to blend together and create something of elegance, depth and true to cool climate Niagara. We hand-picked this fruit (it was cropped very low), fermented the two clones separately in our large oak French fermenters, then pressed into French barrels where it finished malo and stuck around for 9 months.
Tasting Note
I love how this wine evolves with time in the glass. The aromas and flavours of this wine are nicely layered and start off with stewed cherries, fresh raspberry, cola spice, red currants and a tiny hint of white pepper. What makes this wine so focused and elegant is that the fruit component of this wine is held together with balanced acidity and carried away on your palate with the help of firm tannins. In the end the mouthfeel and finishes clean and dry but lingering flavours persists.
Food Pairing
This wine pairs well with soft cheeses, roasted duck breast, mushroom risotto, blood pudding, cured meats (prosciutto, beef tongue, lonza, guanciale).
You know you want to
Sign Up For Our Newsletter
Keep up to date on the latest wine releases, events, and promotions and get 10% off your next order.