Chardonnay Trio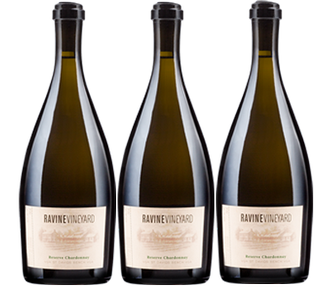 Chardonnay is a great vehicle for showing off the land and the growing season. Our Reserve Chardonnay is made from grapes that are grown on our farm. We grow these grapes using organic techniques. We think that having a living soil that has lots of bio-diversity is the best way to make great, complex and flavourful wines. We are located in the St Davids Bench region and that means we are relatively far away from Lake Ontario. This means we warm up quicker in the spring than if we were right beside the lake. This means our Chardonnay shows riper traits like a creamy mouth feel.

Tasting Note: Our 2015 Reserve Chardonnay is deeper in colour than some other years. It shows aromas of fresh white peach, warm rocks and baking spices like cloves. In the mouth it is rich and mouth filling. It finishes with a nice creamy lingering finish.
Food Pairing: This wine is a great match with seafood like lobster or crab. Try a seafood linguine in a creamy alfredo sauce.
Tasting Note: The 2016 Reserve Chardonnay is medium straw in colour. It is showing aromas of spicy cloves, roasted hazelnuts and fresh apples. In the mouth, it is fresher than expected. It has a line of acidity down the back end. It has an extended vanilla finish.
Food Pairing: Try this wine with a creamy camembert cheese with apricot jam. It would also work well with herb roasted chicken.
Tasting Note: The 2017 Reserve Chardonnay is bright straw colour with a slight green hue to it. It shows aromas of golden apples, rich vanilla bean crème brulee, and toasted marshmallow. On the palate this wine feels rich and creamy. It has been barrel fermented and aged so this does show a bit of oak. It finishes with a lingering Asian pear flavor.
Food Pairing: This wine would make a great pairing with mashed potatoes with nice brown gravy all over the top. It is also great with Upper Canada Cheese Company's Niagara Gold.