Ravine Cabernet Franc Icewine 2019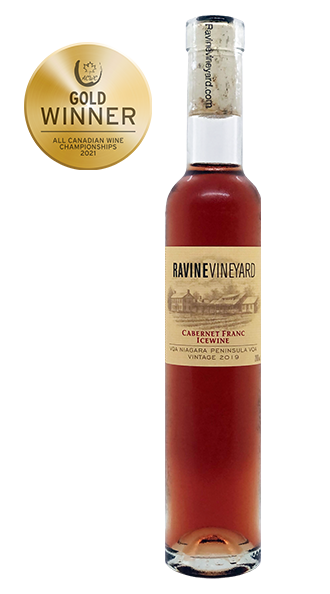 Winemaker's Note
Icewine is truly the wine that has put Canadian winemaking on the map. We have the ideal climate and conditions to make Icewine (-8C, 36Brix at picking) and the international accolades the region has garnered over the years has provided us the confidence to experiment and make wines from different varieties and different styles. Cabernet Franc is our hero red grape in Ontario. It is a winter hardy vinifera red and it very versatile in what styles it can be made in (reserve, blend, rose, sparkling, Icewine). I was excited to make a Cabernet Franc with Ravine in my inaugural year as I love playing with oak aging, fermenting to balance and harnessing the unique Cabernet Franc nuances in a dessert like form.
Tasting Note
A pretty red hue, viscous in texture and body and lovely on the palate. Aromatically lots of strawberry jam, coffee, orange zest and chocolate. It coats your mouth as you take your initial sip but there is the right amount of natural acidity and sweetness to lift it and bring across an elegance in the finish. When you sip the wine you definitely taste those characteristics in that order but something about how the wine finishes on a mocha note really pleases me on how it turned out after sitting in barrel for a few months.
Food Pairing
Pair this Icewine with chicken liver terrine, blue cheese, dark chocolate, strawberry crumble, galettes, crepes, icecream or even put a splash of it in your Brut for colour, sweetness and flavour.